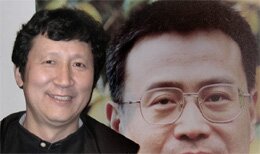 Gu Xiong is a multimedia artist and photographer originally from Chongquing, Sichuan in the People's Republic of China.
In 1972, during the Cultural Revolution, Gu Xiong was sent to the remote countryside.
With millions of other youths, he was forced into "re-education" with peasant teachers. He laboured in the fields under extremely primitive conditions for four years. By the light of a kerosene lantern, he started to draw the people and objects around him. Drawing became an obsession and gave him strength.
After being allowed to return to the city, he earned a BFA and MFA at the Sichuan Fine Arts Institute where he also taught traditional woodcut printmaking. His first link with Canada came in 1986 when he was invited to take part in an exchange program at the Banff Centre for the Arts. In 1989, Gu Xiong finally had to flee China as a result of his participation in Beijing's China/Avant Garde show and in the Tiananmen Square demonstration.
Gu Xiong has an MFA and BFA from the Sichuan Institute of Fine Arts in China. He has taught at the Emily Carr Institute of Art & Design, Simon Fraser University, Kwantlen University College and the Sichuan Institute of Fine Arts. He was among five artists in Here not There, an exhibition held in the spring of 1995 at the Vancouver Art Gallery, which explored issues of artists born and educated in China and re-established in Vancouver. Xiong currently is an Associate Professor of Fine Arts at the University of british Columbia.
Gu Xiong's multimedia installation in the VAG exhibition was selected by a jury made up of Nam June Paik, Cynthia Goodman and Hong Hee Kim for the Kwangju Biennale '95 in Kwangju, Korea. Gu Xiong has not looked back since. In the fall of 2004, he was a featured artist at the Shanghai Biennale, China's foremost international exhibition for contemporary art. His massive photo installation, I am Shanghainese, was mounted on the exterior walls of the Shanghai Art Museum.
Gu Xiong has received numerous awards and has collaborated with artists from England, the United States, China and Canada. He has written two books as well as articles for art catalogues, magazines and newspapers.
Diane Farris Gallery has promoted Gu Xiong's work since 1991. In the summer of 1998, Gu Xiong returned to China with his family for the first time in ten years. The photos, videos and drawings from this trip were exhibited in China Diary, 2001. Most recently, Xiong has been photographing visual paradoxes found in the culture of China as her people begin to adopt Westernized practices and products.