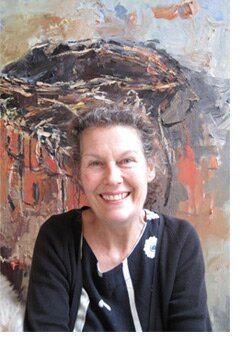 Originally from Sheffield in Northern England, Vicky Marshall immigrated to Canada in 1966 with her mother and settled in Prince George. Marshall later moved to Vancouver. In 1979, she graduated from the Emily Carr College of Art and Design.

Like many artists who emigrated from England to British Columbia, she has been drawn to the raw beauty of our landscape. For a solo exhibit at the Burnaby Art Gallery, she wrote, "The forces of nature are those of life; in marrying aesthetic considerations with emotional responses to the raw beauty of those elemental forces, I hope to communicate to the viewer the primal essence of Landscape."

In the early 1980s, Marshall was painting downtown urban scenes of hookers, strippers and vagrants, which earned her a reputation as a "brilliant chronicler of the seamier side of street-and-club-life".

Her figurative work was popularized by the "The Young Romantics" exhibition held at the Vancouver Art Gallery in 1985. This exhibition included the work of eight young Vancouver painters who shared an intense, highly emotional style of painting. Since then, Marshall has shown and received critical acclaim across Canada, the U.S.A. and Europe.


?